TAIRA Koshichi (1939-1994) was a photographer, born in Kijoka, Ogimi Village, Okinawa.
 In 1970, he published a photobook, Okinawa: The Anguish and Resistance of a Million Residents, which depicted the stormy times of Okinawa prior to its reversion to Japan. He also published a photobook, Painukaji, which described the scenery and the lives of people in their home islands, in 1976. This work won him the 2nd Kimura Ihei Photography Award. He continued to photograph the lives of Okinawan people from different viewpoints.
 The works of the photographer gazing at the reversion of Okinawa to Japan and trying to reveal the reality of changing Okinawa during its turbulent times still have the power to pose question tu us all. This exhibition retraces the steps of TAIRA Koshichi through photos he took in his lifetime.
TAIRA Koshichi
1939 Born in Kijoka, Ogimi Village, Okinawa Prefecture
1959 Graduated from Hentona High School and left Okinawa for Tokyo
1962 Hired and assigned to the photography department of the Ryukyu Shimpo
1970 Hired and assigned to the public relations department at the Government of the Ryukyu Islands (currently the Okinawa Prefectural Government)
1977 Granted the 2nd Kimura Ihei Photography Award for his photobook Painukaji
1993 Donated approximately 200,000 photos to Nago City
Jan. 1994 Died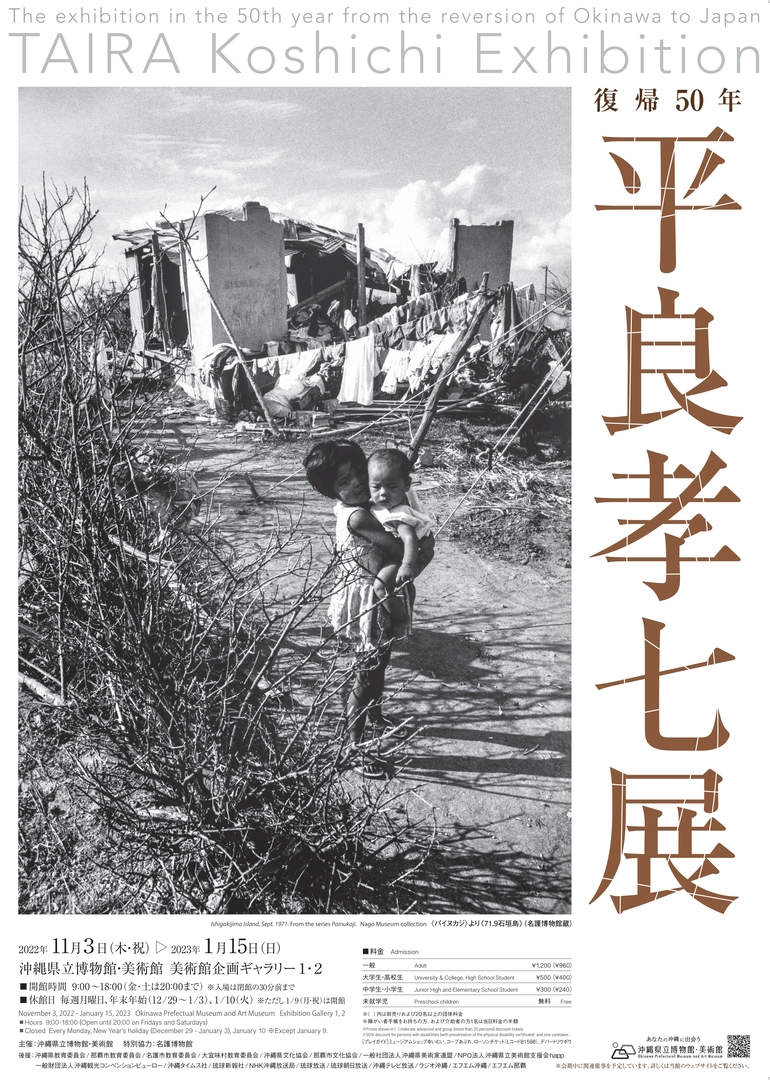 ▲ Download the flyer here