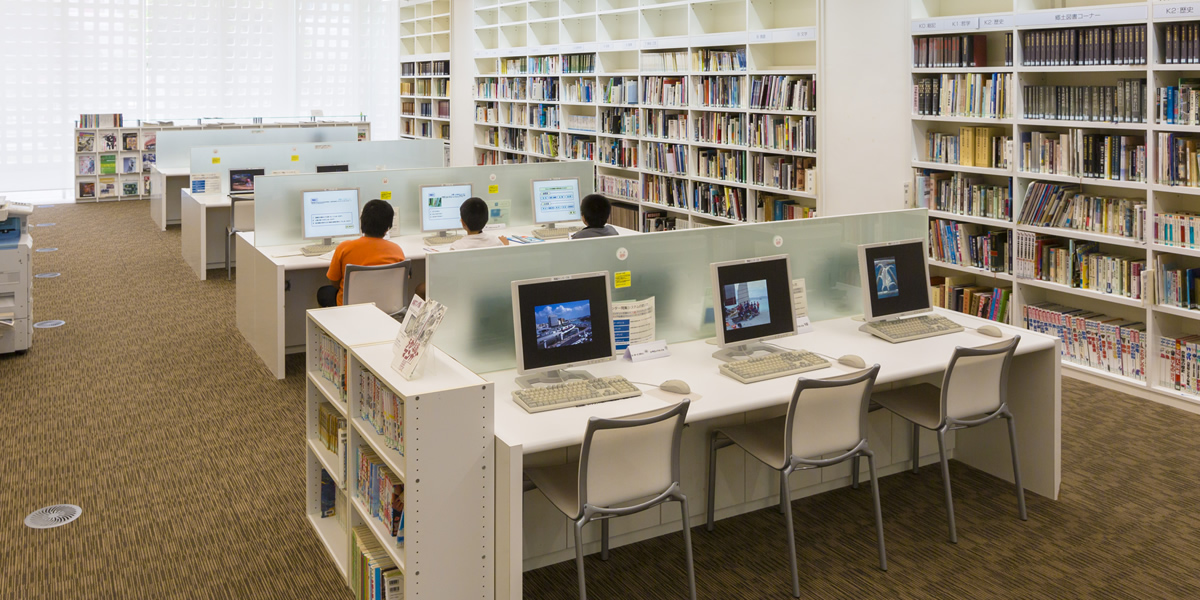 The Media Library collects, maintains, and encourages the use of information and books on Okinawa's nature, history arts and culture, keyed to museum objectives and the prefecture's basic educational policies. The Center's policy is to make its information as widely available as possible. Specifically, the museum manages its holdings of museum and art museum-related books and other pertinent materials, purchases materials and receives gifts so as to make information efficiently available to visitors in the museum. The museum works to efficiently process materials so they will be ready accessible for visitor use and research and will spark and support lifelong learning.
Services
(1) Computers and AV Equipment
Available to search the database of museum and art museum Holdings.
Nature and living on the islands
Museums' knowledge quiz (easy, intermediate, advanced levels)
(2) Audiovisual Software
Image and sound software on Okinawa's nature, history, culture, arts and crafts compiled by the museum and art museum.
Software featuring images and sound related to Okinawa; other software in support of lifelong learning.
(3) Interesting Reading
Materials on Okinawa's nature, history, culture
Monographs on the museum and art museum collections
Museum and art museum illustrated books
Museum and art museum research bulletins and annual reports
Okinawa Prefecture City, town and village histories
Collected works on art and illustrated books
(4) Reference
Answers to frequently asked questions about exhibitions and Okinawa's nature, history and culture
Book search information and reference help
Access to museums and art museums inside and outside of the prefecture
(5)Audio guide rental (free)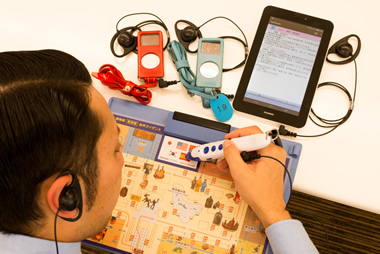 Explains the displays in the permanent exhibit of the Museum and the Collections Exhibition of the Art Museum.
(Japanese, English, Chinese, Korean, Spanish)
(6)About the OkiMu Members' Club
The members' club gives you free entrance to the exhibitions all year round, along with lots of other special perks.