The Okinawa Prefectural Museum and Art Museum is the first prefecture-run art museum of the entire pre-and postwar era. This art museum has been constructed to encourage artistic endeavor, which goes to the very heart of our humanity, and by so doing, to enrich the aesthetic sentiments of the people of this prefecture, thus supporting wholesome social growth and development. The museum and art museum also intend to serve as a hub of artistic and cultural activity for this region.
While stimulating creativity and offering to the people of Okinawa and to visitors here a myriad of opportunities for arts appreciation, the art museum aims to become an international center contributing to the development of the Asia-Pacific region through its arts and cultural activities.
Trends in Okinawan Art

Introduction
In autumn of 2007, Okinawa Prefecture's first art museum of the entire pre- and postwar era opens its doors to the public. Visitors can expect to find a superbly organized collection of works spanning the whole history of art in Okinawa from the Meiji period to the present. Okinawa's artists are almost unknown in the rest of Japan. This museum will be a place to display and celebrate the art they have achieved in a place with quite different climate and history from mainland Japan.
Ryukyu Kingdom Artists and the Japanese Style
For several hundred years, the Ryukyu royal government patronized artists. When the kingdom was abolished, artists lost their patron. Among these court artists were Soukyou Nagamine, who did ink paintings of southern island scenes, and Seisei Higa, a painter of genre pictures. When the kingdom ceased to exist and artists such as these lost their places, the traditions of this court art were gradually swallowed up, as it were, in modern Japan. Artists working in the Japanese style began to appear toward the end of the Ryukyu Kingdom era. This style did last until the Showa period but it failed to hold the interest of later generations. All in all, only a few artists were involved. Shinzan Yamada studied sculpture and later the Japanese style with Kou-un Takamura at the Tokyo School of Art before returning home. Yamada was still active after the war. His major works are the Shoutoku Painting Hall's "Establishment of Ryukyu Han," and the great Kannon statue in the Okinawa Peace Memorial Hall in Itoman City.
The best-known Japanese style artists after Shinzan are Yasutaro Kinjou with his elegantly flowing illustrations and Koukan Yanagi, who is known for his calm and peaceful portraits of lovely women.
The Opening to Western Art
It was the art teachers dispatched to Okinawa from mainland Japan toward the end of the Meiji period who played a major part in opening the doors of the Okinawan art scene to western art. In 1901, Morinosuke Yamamoto, the first graduate of the Tokyo School of Art's Western Art Department, who was associated with the Hakubakai, arrived to take up his duties. While here, he produced works drawing on Okinawan material and showed them at the Hakubakai. Yamamoto's pictures provided Okinawa with its first real introduction to western art.
Keijo Higa, a native of Okinawa, became art teacher at the No. 2 Prefectural Middle School in 1922. Until his death in 1941, he sent numerous students on to the Tokyo School of Art and trained a host of artists who became leaders in the Okinawan art scene.
Prewar Art
Around 1910, two of Higa's students, Aijyun Nadoyama and Seikan Oomine came on the scene. These two, active on into the postwar years, stand out as the representative Okinawan artists of that era.
Both men were steeped in a passionate love of home and painted pictures of Okinawa's timeless human and physical landscape. Nadoyama spent his career depicting the simple and good old times in Okinawa/Ryukyu portrayed through images of women. Oomine made the Shunyokai his base of operations and sought throughout to capture an original or essential Okinawa in his works. Besides these two, other alumni of the No. 2 Middle School left their mark on the Okinawan art scene. Late in life, Kohya Ooshiro found his way to depictions of Okinawa's religious practices and rituals and Keiichi Yamamoto can rightly be said to be the artist who brought surrealism to Okinawa. Others who deserve mention are Masayoshi Adaniya, Kensho Kaneshiro and Kouichi Kojyo.
The Avant-Garde and Local Color
In the 1960s, three artists, Kikou Shiroma, Youko Oohama and Jissei Oomine formed the avant-garde group, "Ko." These three and others were heavily influenced by the "concrete" and "Art Informel" movements current in Japan at that.
Around the time of Okinawa's reversion to Japan, Nobuharu Nagayama, Tsutomu Makishi and Yasuo Arakaki, as if lashing out in anger, launched outdoor exhibitions featuring large-scale objets d'art. In contrast to these avant-garde movements that reflected worldwide trends, an opposing trend emerged of artist who sought to find and express Okinawa's own local peculiarities. Bin Futenma, for example, used his plaster print technique to make pictures of Okinawan scenes. Chouki Kiyuna painted the religious rituals of his own locality.

Entering the 1980s, Okinawa's mainstay artists had domesticated modernism, so to speak, and were producing works of great power and force. Yoshio Toyohira used American military castoff items to embrace the material and the circumstantial. Kenshin Yamashiro created magnificently dark and gloomy abstracts. And Nobuharu Nagayama painted in monochrome.

As the Okinawa art scene became ever more lively in the 1990s and after, young Okinawan artists began to work and attract notice outside Okinawa - painters Hitoshi Chibana and Taichi Yonaha; Hisanao Aguni and Nami Makishi with their three-dimensional works and installations.
Emigration and Expressions
In terms of emigrants as a share of its total population, Okinawa has the most in Japan. Both before and after the war, a large flow of people left for North and South America. Born in America, Hideo Kobashigawa was a Kibei-Nisei who spent his youth in Okinawa. Until almost the age of 90, he painted huge pictures distilled from the memories of his Okinawan childhood. Toshiko Takaezu is a Nisei living in New Jersey. She is one of the most important potters in America today. Born a Nisei in Argentina, Julio Goya is a sculptor now living in Okinawa. He has won prizes at the Fujisankei Biennale and the Rodin Prize Exhibition. The number of artists who are not emigrants but are living and successfully pursuing their art abroad is growing as well. Yoshiharu Higa is a photographer and artist based in New York. Setsuya Kotani makes woodcuts in North Carolina. Although still young, the New York-based modern artist, Yuken Teruya expresses his fascination with social systems in pictures of elegant ideas and beautiful form and is a regular at international exhibitions.
Then there is Manabu Kouchi, an artist and sculptor living in Paris. He won fame and recognition the official artist of the 1996 GRAMMY awards.

To The Future
Ever since the Meiji Era, Okinawa has been caught up in the throes of change and brought into contact with strange and different cultures. Out of this turmoil has come a vigorous and fascinating array of arts. Nowadays, if one were to try to say which of these is the most expressive of Okinawa, one might be inclined to say music and the performing arts, the intangible cultural forms. But once upon a time, lacquer ware, pictures and the other tangible arts and crafts, with their superb beauty and elegance, held that place. Looking at the contemporary arts scene in Okinawa, we can see the possibility of the revival of that former arts kingdom, its potential hidden now perhaps, but only just out of sight. This new art museum aims to bring it back into full view.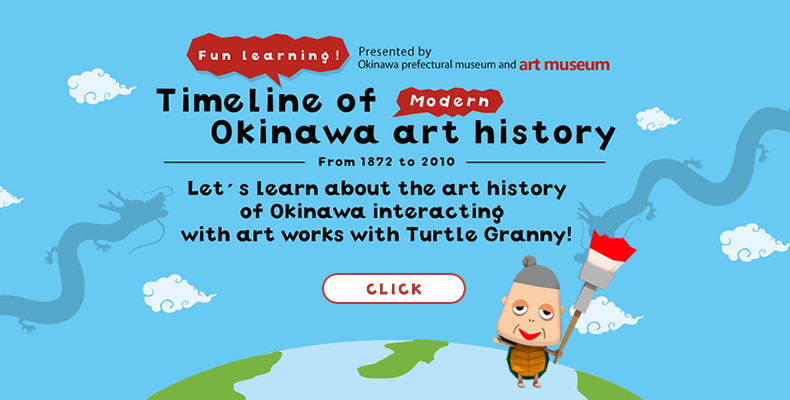 Timeline of Okinawa modern art history
The Collection
To assure creation of an art museum truly reflecting Okinawa's individuality and uniqueness, the art museum will create a collection of the works of contemporary Okinawan and Okinawa-related artists, as well as the art of Japan and other countries of Asia, comprising of plane surface pictorial art (painting, woodcut printing, design, photography) and the three-dimensional art (sculpture, objets d'art, designs, etc.). Also important will be the image arts (film and other image creations). Works of art essential to an understanding of modern arts trends will hold a prominent place.